1
« on: October 17, 2018, 04:00:57 AM »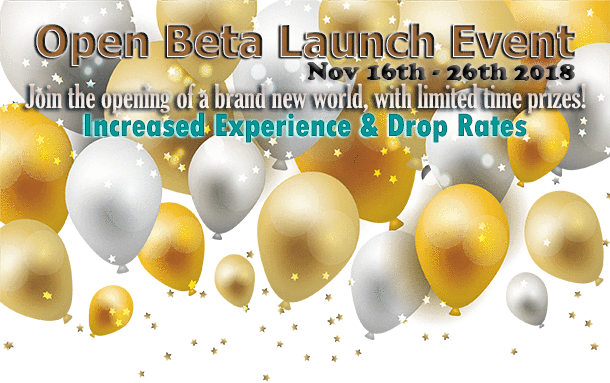 Join us

November 16th - 26th 2018

for the Deloria Online Open Beta Launch Event, as we start the Open Beta! Enjoy increased experience and drop rates during the event, additional event quests and collect '

Launch Diamonds

' as you level.

'

Launch Diamonds

' can drop from any mob, with harder mobs having an increased chance. Players can then convert 5 '

Launch Diamonds

' into 1 '

Launch Crystal

', which can be traded for a selection of limited time equipment and other prizes! All Event items are BoU/BoE (Bound on Use/Equip) which means they can be traded to other players, or sold in their own Player Shop. As most event prizes are limited time only to collect, players who collect an extra amount of '

Launch Crystals

' will be able to sell these additional prizes at a later time when they are unavailable. Don't forget to log into the game every day for your Deloria Daily Login Bonus item.
Launch Event Prizes
- Launch Aviators (Epic quality level 20 helm equipment which unlocks unique head appearance. BoE.)
Trade for 6 Launch Crystals

- Orb of Collingwood (Teleports player to Collingwood Capital. 50 Charges. BoU.)
Trade for 10 Launch Crystals

- Orb of Binding (Binds players soul to temporary respawn location until they logout. 50 Charges. BoU.)
Trade for 12 Launch Crystals

- Orb of Recall (Teleports player to their temporary/permanent respawn location. 50 Charges. BoU.)
Trade for 12 Launch Crystals

- Miracle Grow Feed (Reduces grow time of 1 player garden pot by 1 day.)
Trade for 1 Launch Crystal

- Golden Grow Soil (Reduces grow time of ALL player garden pots by 1 day.)
Trade for 6 Launch Crystals